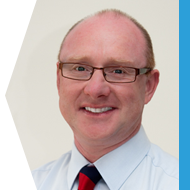 Graham Hill
Overview
Graham's coaching style is engaging, practical and results oriented. Whilst allowing sufficient flexibility, he is solution focused - so that both clients and those being coached can achieve the best possible results. Graham's overall experience allows him to work in the complex environments of group and individual coaching with frontline supervisors, middle management through to senior executives/managers.
With direct experience in business development, people management, strategic business relationship development and service delivery, Graham brings significant commercial experience to the coaching relationship. This, coupled with his academic qualifications, provides him with a sound understanding of the broad-ranging leadership and organisational complexities and challenges that face the people he coaches.
Over the past 20 years Graham has worked in the banking industry, small business and in the health insurance industry where he worked for two of Australia's most successful health funds, in a variety of senior roles.
Graham has built a broad range of business skills and competencies during his career, which include the following:
Human resource policy development
Performance management program development
Change management
Executive staff recruitment
Operations management
Marketing, business development and sales
Strategic planning
New product development
New business process design and implementation
Project management
Leadership development and coaching.
Graham has coached in a broad range of organisations both in the public and private sector, including:
Avant, Alfa Laval (Australi /New Zealand), Alstom Power, AMP, BOC Gases, Commonwealth Bank of Australia, Community Alliance Credit Union, Community First Credit Union, Financial Services Council, Hilton Hotel Group, Illawarra Catholic Club, Illawarra Retirement Trust, Manchester Unity Health Fund & Aged Care, Marsh, Macquarie University, NSW Dept of Corrective Services, NSW Dept of Planning, NSW Electoral Commission, Sutherland Shire Council, The University of Sydney, The University of Western Sydney.

Qualifications/ Memberships
Master of Organisational Coaching – Sydney University
Arts Degree (English/History) – Wollongong University
Advertising and Marketing Certificate – TAFE College
Member - University of Sydney Coaching & Mentoring Association
Hobbies and Interests
Graham has a wide variety of hobbies & interests including reading, walking, coaching, business management & personal development.
Career Summary
Manchester Unity (2004-7) Roles -Senior Consultant – People & Strategy, Acting Human Resources Manager, Senior HR Consultant and Business Development Manager
Australian Health Management Group (1995 - 2004) Roles: Manager – Planning & Implementation, Customer Relations Manager, Member Services Manager & Assistant Marketing Manager.
Government Employees Health Fund (1990 -1992) Marketing Manager. & Assistant Marketing Manager.
Bank of New Zealand (1989 - 1990) Credit Controller, Assistant Manager & Account Executive.
Plus various roles with: Westpac Banking Corporation & Simsmetal Pty Ltd.